Tourism hope with Exmoor Guinea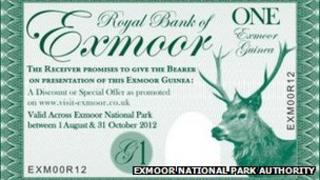 Exmoor businesses have joined together to launch a discount voucher scheme as part of efforts to boost trade.
Exmoor National Park Authority has helped to set up the Exmoor Guinea to boost tourism, which has suffered from the recent poor weather.
Ian Rigby, from the authority, said: "What's good is that businesses really have got behind them and they are offering tremendous discounts."
The scheme will run until the end of October and could also run next year.
"The great thing is you can download them where ever you are on your smart phone and there are posters with QS codes on them, or showing the places that take them," added Mr Rigby.
Exmoor Park Authority has worked with Exmoor Tourism Partnership, the South West Lakes Trust, and the Lyn Economic Alliance to put the scheme together.