Bank machine ram-raids in east 'could be linked'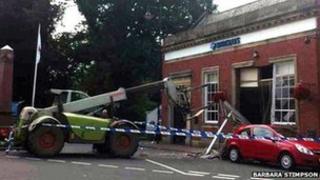 Separate cash machine raids by gangs using stolen diggers at banks in Lincolnshire and Cambridgeshire could be linked, police said.
On Thursday at least four men in balaclavas made off with a cash machine at about 02:15 BST in the Market Place in Long Sutton.
At the same time five men broke into a bank in Cornhill, Wisbech, but fled empty handed.
Police forces in both counties are working together on possible links.
Dick Holmes, of Lincolnshire Police, said the thieves loaded the Barclays Bank cash machine onto a 4x4 car before making their getaway.
It may later have been abandoned on isolated land in the Long Sutton area, he said.
A JCB and a 4x4 vehicle believed to have been used by thieves to break into a branch of HSBC in Wisbech, were both seized by police in Cambridgeshire.
It is thought the offenders left in an Audi car.
Det Insp Alan Page said: "We are keen to trace the Audi and want to hear from anyone who saw a vehicle driving away from Wisbech at about 2.30am."