Landslide death: Blackman family set up charity fund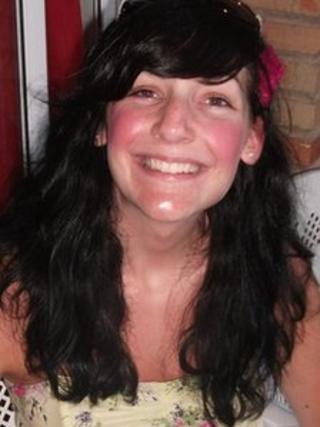 The family of a young woman killed in a landslide on a Dorset beach have set up a charity fund in her memory.
Charlotte Blackman, 22, from Heanor, Derbyshire, died on 24 July on Hive Beach, Burton Bradstock.
The university graduate hoped to start a teaching career having spent much of her time caring for autistic children.
The Charlotte Blackman Memorial Fund hopes to raise awareness and funds for charities supporting autistic and vulnerable children.
Hundreds are expected to attend her funeral at Bramcote Crematorium Chapel on Friday.
In a statement, Vickie Butler, the sister of Ms Blackman's boyfriend Matt Carnell, described her as "an inspirational and beautiful young lady".
She said: "Her love and passion for life touched so many.
"Her motto, 'life is too short to be anything but happy' truly encapsulates her as a person."
'Selfless attitude'
She added: "She had recently achieved a first class honours degree and was very much looking forward to her teaching career.
"Since leaving school she had worked with the elderly and more recently had spent much of her spare time caring for autistic children.
"Her selfless attitude and genuine need and desire to care for others was evident in everything she did."
Ms Blackman had been on holiday with her family at the nearby Freshwater Holiday Park when she was killed.
Eyewitnesses said she had been seen walking directly under the cliffs moments before they collapsed.
Her boyfriend and father Kevin were also buried beneath the rocks, but were pulled free from the rubble by rescuers.