Unfinished ghost story by MR James: Children's endings sought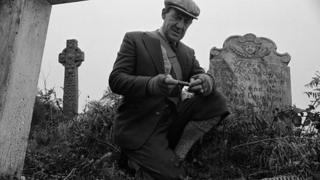 Children are being invited to complete a previously unknown unfinished work by ghost story writer MR James to mark the 150th anniversary of his birth.
James, who was brought up in Suffolk and worked as a medieval scholar at Cambridge University, often featured East Anglian locations in his stories.
The competition, which is being organised by Suffolk Coast, will be judged by novelist Susan Hill.
She is best known for her ghost novel The Woman in Black.
Titled The Game Of Bear, the unfinished story was discovered in the archives of King's College, Cambridge.
The handwritten manuscript concerns the curious case of Henry Purdue, a man preyed upon by a sinister cousin who considers herself somehow wronged by the family.
One of Purdue's school friends, now an elderly man, recounts the uncanny tale to another friend, while grandchildren cause havoc playing "the dreadful game of Bear" up and down the staircase.
Novelist Hill, whose books include I'm the King of the Castle (1970) and The Mist in the Mirror (1992), said: "MR James was a master - a master of the classic English ghost story, a master of setting a scene, creating an atmosphere and telling a tale.
"To have a previously unknown short story of his is a real treat.
"Young people love ghost stories, so here's a chance for them to find a great ending to the one story James himself did not finish.
"If they get into the spirit of the thing, they'll have fun and we will have the delight of reading their 'endings'.
"I hope it leads them to a love of James himself, even if they have to wait until they're a little older to get the most out of him."
James enthusiast and scholar Rosemary Pardoe, who discovered the story, said: "It was an incredible feeling to know that I was likely to be the first person to have read the story since MR James first committed it to paper, and I hope that a whole new generation of young people might discover his remarkable body of work through this competition.
"So many modern writers have acknowledged the enduring influence of MR James, and this is a great opportunity for people of all ages to find out just why he continues to prove significant - and such a pleasure to read."
Montague Rhodes James was born on 1 August 1862 and spent much of his childhood in the village of Great Livermere, a few miles from Bury St Edmunds.
He was also a medieval scholar, holding the post of provost at both King's College, Cambridge, from 1905 to 1918, and Eton College, from 1918 to 1936.
He also served as director of Cambridge's Fitzwilliam Museum, from 1893 to 1908.
James, whose stories inspired horror writers such as HP Lovecraft and Stephen King, has seen his works adapted for film and a number of BBC Christmas dramas.
The competition has been organised by Suffolk Coast - an organisation set up to by local businesses to bring tourists to the area.