Platinum traders guilty of £4.5m VAT tax fraud attempt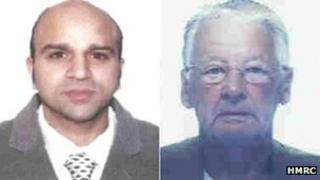 Four men have been found guilty of attempting to defraud £4.5m in tax while trading platinum.
Mohammed Karim, Kamran Bhatti and Imran Bhatti, all of Blackburn, were convicted at Liverpool Crown Court.
Karim was sentenced to seven years' imprisonment, while both Bhatti brothers were jailed for five years.
Raymond Bowden, of Altrincham, Greater Manchester, was also found guilty, but absconded during the trial and will be sentenced when found.
Karim was also disqualified from being a company director for eight years upon release, while the Bhattis were disqualified from holding such a role for six years on release.
The attempt to defraud was discovered by HM Revenue & Customs (HMRC) after an investigation into three North West companies which were importing platinum ingots from Italy between 2006 and 2007 and selling them on without paying VAT.
An HMRC spokeswoman said evidence had shown that Karim, 41, of Billinge End Road in Blackburn, Lancashire, was the "principal controller who orchestrated the trading", who had been helped by brothers Kamran Bhatti, 41, of Churchill Road, and Imran, 38, of Brooklands Terrace, both Blackburn.
She said Kamran had acted as the "front man in the fraud".
The spokeswoman added that Bowden, of Barrington Road, was a director of one of the companies and was "often a courier for the shipments".
The 69-year-old absconded during the trial and was convicted in his absence. Sentence will be passed upon his capture.
Alan Lee, HMRC Director of Criminal Investigation, said the companies' customers had been "paying VAT on items they bought but the metal traders were not declaring it".
"They simply pocketed the cash for their own personal gain," he said.
"Tax fraud and attempts to launder the proceeds of crime are treated extremely seriously by HMRC and we will relentlessly pursue any individuals or crime gangs believed to be attacking the public revenue in this way."