Midlands air ambulances to run car schemes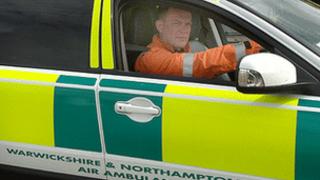 Two air ambulance charities have started to run an "emergency car" scheme, for when the helicopters are not being used.
The Warwickshire and Northamptonshire Air Ambulance and the Derbyshire, Leicestershire and Rutland service will run the cars on Saturday evenings.
The idea is that doctors with the air ambulance get emergency training when helicopters are not in use.
The cars are funded by air ambulance charitable donations.
West Midlands Ambulance service said it has been running a similar scheme since April, working with the Midlands Air Ambulance which covers most of the West Midlands.
A spokesman said 999 calls would be received at the West Midlands Ambulance call centres, where staff will decide which sort of emergency response car is appropriate to send.
A spokeswoman for Warwickshire and Northamptonshire Air Ambulance said fundraising was an ongoing project for the service.
She said attending an emergency cost the service roughly £1,400.