River Thames locks to get Environment Agency investment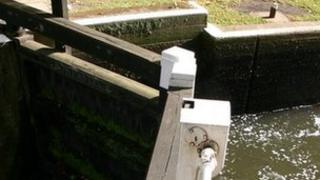 The Environment Agency is spending £2.75m on fixing 12 of its locks along the River Thames.
Major work is to be carried out at Iffley and Abingdon locks in Oxfordshire and Old Windsor lock in Berkshire at a cost of £1.3m.
It involves replacing gates with new timbers following the discovery of rot.
Paul Power, Environment Agency waterways engineer, said the work was vital to provide a "reliable and safe service".
He added: "This year we are investing £2.75m in carrying out capital works on 12 of our 45 locks, from scheduled inspections and repairs to replacing lock gates and upgrading rollers for non-powered craft at Molesley and Teddingon locks."
Additional work will take place at Buscot, Rushey, Whitchurch, Marlow, Boulters, Penton Hook, and Sunbury New Lock.
Work is scheduled to take place from September to March. Abingdon and Old Windsor locks will be drained completely in November.