St Mary's Hospital apology over patient transport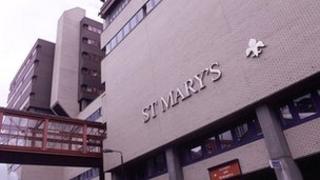 A hospital has apologised to a 74-year-old Buckinghamshire man after refusing him transport to an appointment.
Ronald Peacock normally attends Wexham Park Hospital in Slough, but since 2005 has needed specialist treatment at St Mary's Hospital in London.
Despite receiving assistance with about 100 trips he was declined help to get him to an appointment on Wednesday.
St Mary's has now offered to reinstate his usual transport while reviewing his eligibility.
A spokesperson from Imperial College Healthcare NHS Trust said: "We are very sorry that we did not respond to Mr Peacock after he contacted us to appeal the decision made about his patient transport.
"In light of this, we have contacted Mr Peacock to offer his usual transport to his appointment on Wednesday.
"We will then thoroughly review his eligibility for patient transport and contact Mr Peacock again so we can discuss this process and the reasons behind the decision made."
'limbo land'
Mr Peacock lost a kidney in 2005 following an operation on his aorta.
The operation also left him suffering from circulation problems in both legs, which he says leaves him in constant pain and barely able to walk.
On Monday he visited his doctor who attempted to resolve the transport problem. He was told Mr Peacock would have to await the outcome of his appeal.
Mr Peacock said: "I'm in limbo land and I should be being looked after."
The hospital spokesman said: "Our trust uses Department of Health eligibility criteria to assess each patient on their individual clinical needs to determine whether they qualify for patient transport.
"We have not changed the assessment criteria. However we have recently introduced a more robust assessment process to ensure that only eligible patients travel using patient transport."