100 Faces to tell North East and Cumbria 2012 story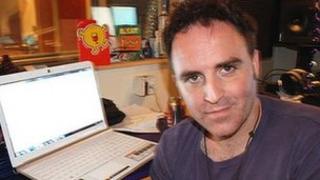 Composer Benjamin Till is inviting people across the North East and Cumbria to "send a postcard" to the rest of the world about what 2012 has meant for them.
In a year which has seen a string of memorable events including the Diamond Jubilee and the Olympics, he will be writing a song to celebrate what the region's take on it has been.
He is working with the BBC on the project 100 Faces, which will involve recruiting 100 people born between 1912 and 2012 and finding out what has been important for them this year.
He will then create a piece of music over which all the contributors will sing or speak their lines and a film will be made.
Mr Till said: "The most important thing is celebrating ordinary people. It will be a celebration of real people in 2012, which has been an extraordinary year.
"It's like sending a postcard from the North East and Cumbria to the rest of the world - this is what we were doing in this moment in time."
Long-lasting legacy
Mr Till believes the social project will produce some interesting results and hopes that it will play some part in charting the history of the North East and Cumbria.
He said: "I think there will be the immediate legacy of people possibly taking comfort from what they see and recognising that.
"The long-lasting legacy will come from the moment in time. Because 2012 was such a special year, people will be asking 'what did you do in 2012?'
"We will be able to look back and say 'that's what everybody looked like, that's how people dressed and that's how people spoke'."
He said he was expecting a whole range or responses, some happy, some sad. He also hopes it might reveal people's attitudes, for example whether the outlook from young people who get involved is optimistic or pessimistic and whether there are differences in people's answers depending on where in the patch they live.
Mr Till said: "I think the most important thing is that it is not necessarily looking for someone who has had the most extraordinary thing happening to them, it will be something that means a lot to a person."
People are being asked to answer the question 'why has 2012 been memorable for you?' in no more than 12 words and to send it with the year of their birth and a photograph.
Once all the contributors have been found, Mr Till will create a piece of music for all the words to be set to and which will be used to make a film.
Answers can be e-mailed to 100faces@bbc.co.uk or sent to: 100 Faces, BBC North East & Cumbria, Newcastle upon Tyne, NE99 1RN.