London 2012: Indoor bikes that are boosting Team GB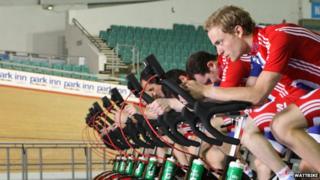 Washing hands, sleeping with the same pillow and using single stripe toothpaste will all go down in sporting history as the "marginal gains" that helped Team GB's cyclists win 12 medals at the 2012 London Olympics.
When technical director Dave Brailsford highlighted these things as being important, an indoor bike, which behaves like a road bicycle, would not have raised as many eyebrows.
The Wattbike, designed and created in Nottinghamshire, was developed with British Cycling to measure the power generated by an athlete and, unlike any other indoor cycle machine at the time, mimic the experience of riding a bike on the road.
Years of experimentation
Alex Skelton, the company's communications manager, explained why it is popular with coaches and athletes.
"[They] like them because they can have a closed environment, with no distractions, ensuring that the riders aren't having to stop at traffic lights, for example," he said.
"It accurately measures power and has a viewing panel to display how you deliver the force as you pedal... [Also] riders can use their own pedals and seats during training sessions."
The Wattbike originated in 2000 when a team based in Ruddington, Nottinghamshire, approached the former British Cycling technical director Peter Keen, with an idea for an indoor bike.
The group, which included two former rowers John and Ian Wilson, wanted to build a machine that could be used by cyclists anywhere in the world without them having to be in a velodrome.
"There were some fundamental things on my shopping list," Mr Keen said earlier this year.
"It had to be robust and it had to mimic as far as possible what competing on a bike feels like.
"The critical interplay between resistance, momentum, and the relationship between how fast you go and what you sense, are all critical ingredients."
What followed was years of experimentation where he would test each prototype before sending it back with his critique.
The Wattbike finally went into production in 2006.
Talent identification
The machines have been used by British cyclists, including Sir Chris Hoy and Victoria Pendleton, since 2007, but the rowers, sailors and even heptathlon gold medallist Jessica Ennis, trained on them in the build-up to London 2012.
However, British Cycling's John Mulcahy said a key use of the machines is in the organisation's talent identification programme.
He said: "They allow us to get larger numbers of young people through testing in a controlled environment, than if done outside."
Some of Team GB's Paralympians were also spotted in this way.
World champion Paralympic cyclist Jon-Allan Butterworth, a former RAF weapons technician, was identified after using a Wattbike at Headley Court military rehabilitation centre, in Surrey.
It is hoped the bikes will have played their part in his and other Paralympic success in London when the games get under way on Wednesday.