Chernobyl children visit Warwick Castle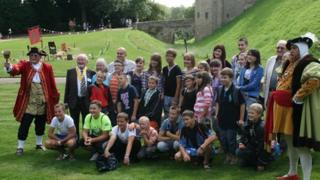 Children who live in an area affected by the Chernobyl disaster have visited Warwick Castle as part of a UK holiday.
The 24 children from the Gomel region of Belarus met Warwick mayor Elizabeth Higgins during the visit arranged by the castle and Warwick Rotary Club.
The children are on a break organised by Chernobyl Children's Project (CCP).
CCP (UK) said the youngsters lived in an area still contaminated 26 years after the nuclear accident and annual breaks helped them recuperate.
The charity said water and local produce in some areas of Belarus were still contaminated and the holidays helped boost the children's immune systems.
Working with its local groups, CCP arranges for about 250 children from Belarus to visit the UK every year.
'Change attitudes'
Linda Walker, who set up the charity in 1995, said: "These holidays can have a big impact on children's health, as well as being enjoyable.
"They also raise awareness about the problems still being faced and support for the children who can't go on the holidays."
The 24 youngsters, aged eight to 17, enjoyed watching jousting and hearing about the history of Warwick, the rotary club said.
They are staying at a residential school or with host families in Solihull, West Midlands, during their four-week break.
Kath Ruane, who works as the CCP Solihull co-ordinator with her husband Ken, said some of the children had lost their parents to cancer and some had siblings with the disease.
"The holidays really give them a chance to recharge," she said.
Ms Walker added that much of charity's work was in Belarus itself, including helping change attitudes to disabled children, who were previously "almost invisible", many being placed in state care.
It also provides humanitarian aid and supports children with cancer, while its volunteers also work on an annual holiday camp for Belarusian children with special needs.