Hiroshima stone was veteran's Maj Philip Malins 'dying wish'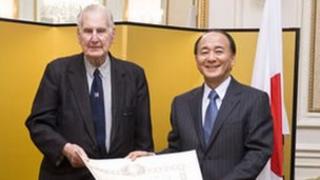 A memorial to the victims of the Hiroshima atomic bombings was the "dying wish" of an ex-prisoner of war.
Maj Philip Malins, from Solihull in the West Midlands was held by the Japanese in Burma during World War II.
He worked for 10 years to have the monument, which includes a stone from Hiroshima's ruins, installed at the National Memorial Arboretum in Alrewas, Staffordshire.
But he died last April, aged 92, before he could see the statue unveiled.
Keiichi Hayashi, the Japanese ambassador to the UK, was at Wednesday's unveiling ceremony.
The International Friendship and Reconciliation Trust, of which Maj Malins was a former chairman, took up the project.
Phillida Purvis from the trust said: "It was fateful that he died on the day the stone arrived from Hiroshima into this country, but he knew his endeavours had been successful.
"It was his dying wish that the stone be turned into a memorial and we promised him that would happen."
'Pass his torch'
Maj Malins was a veteran of both Burma and Dunkirk and he also won the Military Cross for leading a mission in French Indochina after the war had ended.
In 2000, along with Dame Vera Lynn, he played a leading part in a British Legion campaign to obtain payments for surviving prisoners of war who had been held by the Japanese.
The PoWs, their widows and families each received £10,000 compensation.
In 2010 Maj Malins also became only the second non-Japanese national to be awarded the Order of the Rising Sun, Gold and Silver Rays for his reconciliation work.
Mrs Purvis said: "He believed really strongly in reconciliation with former enemies.
"He believed soldiers had to do what they had to do, but there was no reason for them not to get together in friendship afterwards and he dedicated his life to that message."
Mr Hayashi, who attended Maj Malins's funeral in April, said: "I still remember when he broached the subject of the monument and asked us for a piece of stone from Hiroshima - he was so convinced of the everlasting value of this for the cause for peace.
"As I witness the monument, I feel even more compelled to pass his torch, his message of reconciliation and peace on to the younger generation.
"This statue to me will always be about what Philip did and from here he will always be watching us build upon his achievements."