MP Khalid Mahmood warning over UK Syria fighters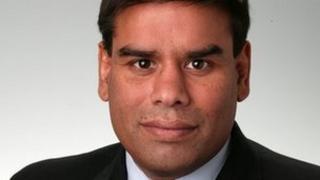 Young British Muslims are in danger of being radicalised by the conflict in Syria, a Birmingham MP has warned.
Khalid Mahmood said he believed a number of Syrian sheikhs were influencing young Britons.
The Labour MP for Perry Barr added some Syrian-born men now living in the West Midlands were returning to "exact their revenge" on the Assad regime.
The BBC understands dozens of men from London and the Midlands have gone to Syria, some to join extremist groups.
Mr Mahmood called on police and border control staff to be vigilant.
"What we need to do is get the UK border agencies to understand that those people are going out there.
"The problem is that they are not just going directly to Syria, they might go to Turkey, they might go to other areas and make their way there."
He said some of the Syrian-born people returning to fight were now British citizens.
'Extremely concerned'
"They are normal people who have been pushed out by the current government in Syria who want to go and exact their revenge and join the resistance," he said.
Mr Mahmood said the situation around Syria reminded him of Afghanistan in the 1980s.
"I am extremely concerned at the moment because I see similar things to what happened during the initial stages of the Afghanistan war where we were supporting the mujahideen against the Russians," he said.
"We wanted to get the Russians out and we armed people, we encouraged people to go out there and fight and go and fight for the jihad."
The MP also fears there could be a security risk from people returning to the UK after fighting in Syria who may have been trained and "been brainwashed by some of the leaders out there".
BBC security correspondent Frank Gardner said the British government was adamant it was not arming anyone and officials have said they do not want anyone going to Syria to fight.
Our correspondent, who has been investigating the issue, said a small but growing number of volunteer fighters were going to Syria who had "no national ethnic connection" to the country, so were essentially going as international jihadists.