Car theft shooting victim John Adams loses eye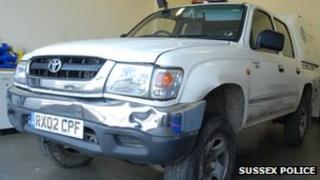 A man shot in the face as he tried to stop thieves from stealing his 4x4 vehicle in East Sussex says he has lost an eye.
John Adams, 43, remains in hospital following the attack in Harbour Road, Rye, just before midnight on Saturday.
During the robbery Mr Adams jumped out of the way of a dark coloured car that was being driven towards him.
Two men from Kent, a 41-year-old of Ashford and a 28-year-old from Maidstone, were arrested on Wednesday.
They have since been released on conditional bail until 11 September.
Mr Adams was shot in the face with an air rifle, police said.
He said: "I didn't do the right thing. With hindsight, I shouldn't have done what I did, I should have stayed indoors and let the police deal with it.
"If I had known that there were four of them and that they were tooled up, I would never have gone out after them.
"I've lost an eye for the sake of a vehicle."
Sussex Police said the victim's Environment Agency Toyota Hilux had been found in Charing, Kent, an hour after the theft.