Juniper bush disease found in Cumbria and County Durham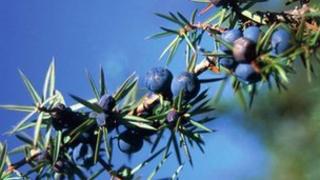 A rare species of plant in Cumbria and County Durham is at risk after being discovered with a serious disease.
The Food and Environment Research Agency (Fera) found cases of Phytophthora austrocedrae in juniper bushes at the two sites.
The disease is a damaging plant pathogen first discovered at the Upper Teesdale National Nature Reserve, in the North Pennines, in 2011.
Edward Birchall, from the agency, said it was being taken "very seriously".
'Outbreak situation'
Fera has taken action at all the infected sites to remove the disease and prevent it from spreading.
Mr Birchall said: "We're taking it very seriously... the junipers are very important as a native species to the UK, there is only about 400 hectares left.
"What we'd like to do is be able to assess the outbreak situation and work with the people who have got control."
In the north of England there are nine confirmed cases - seven in the natural environment and two in nurseries.