London 2012: Laura Trott takes part in Birmingham cycling event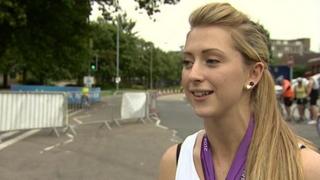 Double Olympic gold medallist Laura Trott has taken part in a cycling event on streets in Birmingham.
Trott and former X Factor contestant Stacey Solomon started Sky Ride Birmingham, which allowed residents to ride through traffic-free streets.
The cyclist won golds in the omnium and team pursuit at London 2012.
At least 200 people attended a private street party to welcome Trott back to her home in Cheshunt, Hertfordshire, on Friday.
'Totally safe'
Organisers said about 20,000 people were taking part in Sunday's Birmingham event, which involved Sky and governing body British Cycling.
The initiative began at the University of Birmingham at 10:00 BST.
But participants of all abilities were told there was no official start point or start time and residents could ride as much or as little of the 10.6km (6.6 miles) route as they liked.
Trott said she was "so pleased" people were going out on their bikes.
She added: "With all the whole 'inspire the next generation thing' that came from the Olympics, it's a great way for people to come and see what cycling is about. Because it's closed roads it's totally safe.
"Obviously it does help you get fit. Look at my mum. She lost so much weight just from cycling."
Trott, who is looking forward to going on holiday, said she was doing "nothing bike wise really until November" when the World Cup is held in Scotland.