British Airways in-flight map 'confusing'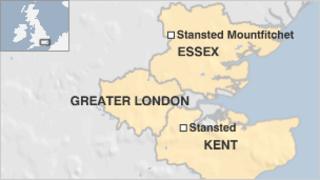 British Airways has said its in-flight map "could be confusing" because it displays Stansted in Kent.
The village, where about 400 people live, could be confused with London Stansted Airport which is in Essex.
Kent's Stansted appears on the map, which is shown on planes' seat-back screens, and on which passengers can track their flight path.
A spokesman for the airline said its staff were talking to the firm which made the moving map about the anomaly.
As aircraft approach southern England the map displays Stansted, near Wrotham on the M20 in north Kent.
The airport which shares the village's name is approximately 50 miles north, near the village of Stansted Mountfitchet in Essex.
British Airways said the map's software does not specifically highlight airports.
The spokesman said: "It is something we are aware of. There is a village called Stansted in that location, in Kent. The map is not referring to Stansted Airport."
He added: "We're slowly introducing a new entertainment system onto our fleet. Stansted in Kent won't feature on the new map, that's not in response to this, it was something we were doing anyway."
Roxana Brammer, the Clerk of Stansted Parish Council in Kent, made the most of the error by highlighting the tourist attractions of the village.
"Tourists would enjoy themselves in Stansted," she said.
"We've got St Mary the Virgin church. That's medieval. Worth a visit. And there are three pubs. And we've got a hotel - the Hilltop. They do bed and breakfast and Sunday lunches."