Norwich City boss Chris Hughton fined for driving offence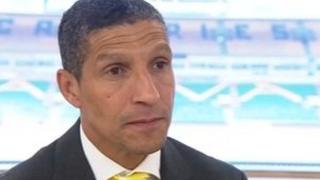 Norwich City football manager Chris Hughton has been fined £600 after failing to identify the driver of his car when it was caught speeding.
The offence dates back to 21 February when Hughton managed Birmingham City, before he joined Norwich in June.
Appearing at Solihull Magistrates' Court, the 53-year-old was also told to pay £100 costs.
Hughton, who had denied the charge, was also given six points on his driving licence.
His Audi A7 was caught travelling at 73mph in a 60mph speed limit zone on the northbound carriageway of the M42 in Solihull, a court official said.