Man fined for abusive email to MP Stuart Andrew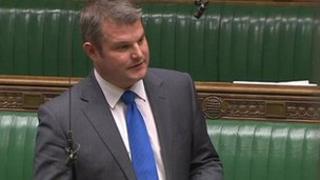 A man who sent an abusive and offensive email to a politician who had been headbutted by a fellow MP has been fined by Leeds magistrates.
Nicholas Scales called Pudsey MP Stuart Andrew a "mammies boy" and made a derogatory remark about his sexuality.
The email was sent after the then Falkirk MP Eric Joyce attacked Mr Andrew at a House of Commons bar.
Scales, of Surrey, admitted sending a malicious communication and was fined £110 and ordered to pay £100 costs.
In the email, Scales said the attack by Mr Joyce had "probably knocked some sense into your small-minded Tory mind".
'Toughen up'
He also made insulting remarks about Tory MPs and wrote: "The sooner the IRA restarts and bombs your conference again the better."
Leeds Magistrates' Court was told Scales, of Upper Hale Road, Farnham, sent the message to Mr Andrew's constituency office in Leeds three days after the attack by Mr Joyce in the Strangers' Bar.
The email, which included sexual swear words, told Mr Andrew to "stop wasting police time" and said he should get his "job done".
He also suggested the politician should go out in Leeds and Bradford to "toughen up".
Femi Odenekan, defending, told magistrates: "It was offensive, I make no bones about it, the defendant accepts that."
The court was told Scales, who was not working and has mental health issues, will pay the fine and costs out of his benefits.
A restraining order was also made preventing Scales from contacting the MP directly or indirectly for 12 months.
Eric Joyce resigned from the Labour Party after the brawl, in which he also assaulted several other MPs.
Speaking outside the court, Scales said he "regretted" the contents of the email he had sent to Mr Andrew and was "sorry for any distress" caused to the MP or his constituency office.
"I wish I had made a stand in a more positive and constructive manner," he said.