En Francais: The rise of England's bilingual schools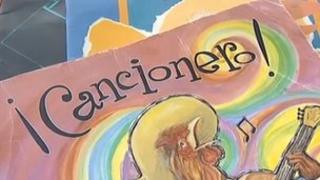 A state-funded bilingual primary school will open in Brighton this September.
The Bilingual Primary School, which will teach the national curriculum in both Spanish and English, is not the first bilingual school in England but they are far from common.
While Welsh medium schools, where lessons are taught mainly in Welsh, have been common in Wales for many years, schools that offer lessons in a language other than English are still something of a rarity in England.
The first state-funded school to offer lessons in two languages (rather than language lessons) started in London.
Raising standards
Wix Primary School, in Wandsworth, has a bilingual stream of pupils which will reach year six this September for the first time.
The idea was conceived by two head teachers, one from Wix and the other from Ecole Charles de Gaulle Wix, a French lycee which shares the site.
Marc Wolstencroft, the head teacher of the English school, said: "I started work at Wix in 2004 and at the time the school wasn't doing well.
"We shared accommodation with a branch of the lycee, a French primary school, and I thought we had a wonderful opportunity between the two schools to create something which would raise the standards of the school and do something novel and exciting in the world of education which parents would buy into."
Wix has gone from a school where pupil numbers were declining to one that is oversubscribed.
Mr Wolstencroft said the school is in an area that would be classed as having social deprivation with pupils a mix of those that receive free school meals and those from more affluent families.
He said: "We have various people come and visit us annually, we had some visitors from China recently - there has been an awful lot of interest in replicating our model in German, French, Russian and Chinese."
The school aims to offer a "bi-cultural" experience so children learn about life in France and see how French children are taught different subjects.
"Children need a broad education and with language learning it's the earlier the better," he said.
"Children who speak two languages are at an intellectual and cultural advantage. We live in an international society so being able to give children the opportunity to speak another language is quite crucial."
Peter Johnson is the founder of a new bilingual primary school which will open in London next year.
Judith Kerr Primary School, a free school, will offer lessons in both German and English.
It is being set up by a group of parents from in and around Southwark who are passionate about the benefits they say come with a bilingual education.
Mr Johnson said: "I'm half German, my mother brought me up to speak German and I'm trying to do that with my own young children.
"I thought there would be interest in creating a school that kept that early language learning going.
"There is a lot of focus on the core subjects of maths and English in this country but less focus on languages and other subjects."
The school will have two classes of 25 in each year group with 350 pupils when it reaches capacity.
Nationally the number of pupils studying languages has fallen since it was abolished as a compulsory GCSE by the Labour government in 2004.
Mr Johnson said this had led to languages becoming an "elite" subject as private schools give the subject more attention.
He said: "An awful lot of language studies have faced a decline so that it has become an elite activity.
"One of the things that motivates me is the challenge of working against that (view)."
Therese Comfort is the languages education lead for primary schools for the CfBT Education Trust - a UK charity which provides education services and manages schools.
Inter-cultural understanding
She said improving how children engage with languages at secondary school starts at primary school.
"If children have a positive experience at primary school they will be really motivated and want to continue," she said.
She said while it was probably not possible to replicate the bilingual model everywhere aspects of it could be replicated such as bringing languages into other lessons such as PE, music and art.
"Children can learn how to learn a language as well as learning a language - they learn how to make new sentences, how to use grammar and use phrase books," she said.
"They also get an inter-cultural understanding - we live in a world where people have different cultures and speak different languages so they learn about children in different countries as well."