Thames Valley and Chiltern Air Ambulance in donations boost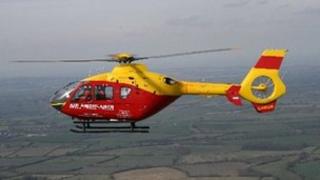 An air ambulance service has reported a "fantastic fundraising year", saying the message is getting through that it is a charity.
The Thames Valley and Chiltern Air Ambulance hopes to fly longer hours and fund specialist doctors on flights if it reaches its donation target.
The service is looking to raise £4m through public donations.
Last year the charity had an annual running cost of about £3m and it says outgoings are set to rise.
A patient who credits the service with saving his life said the extra expertise would be vital.
Lawrence Littledale, from Oxford, was returning from a New Year's Eve party seven years ago when his car hit a kerb, spun off the road and struck a tree.
'Plan ahead'
He added: "My lungs had collapsed, I had a brain haemorrhage.
"The highly-skilled paramedics came down in a field, cut me out of the car and gave me immediate medical assistance before airlifting me to John Radcliffe Hospital.
"Their swift intervention saved my life.
"To have doctors on board and increased expertise on board will help save lives."
It costs the service, which covers Berkshire, Oxfordshire and Buckinghamshire, more than £2,000 for every mission, with about three deployments a day.
Sarah Williamson, fundraising manager at Thames Valley and Chiltern Air Ambulance Trust, said: "It's been absolutely fantastic this year and going forward it means that we can plan ahead for the next few years.
"We aim to build on the fundraising strength that we've seen... which means we can build on the operational strength."