Mumps cases in north-east England quadruple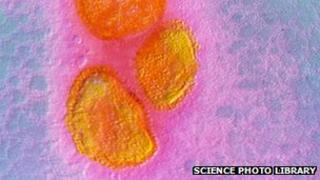 Reports of mumps have more than quadrupled in the north-east of England compared to the same time last year, latest figures show.
The Health Protection Agency said 133 cases were diagnosed between April and June compared with 32 in the same period in 2011.
The agency said the number of cases nationally had doubled from 468 to 930.
It warned teenagers and young adults who have not had two doses of MMR vaccine are particularly vulnerable.
Regional head of immunisation Julia Waller said: "While most people recover from mumps within a week, it can still be a very unpleasant disease.
"Occasionally, some people may develop complications that can include inflammation of the pancreas; viral meningitis (inflammation of the brain); inflamed and swollen testicles in men and ovaries in women."
The agency said the latest figures also showed a national rise in cases of measles, although not in the North East.