Two bailed in Manchester Debenhams boy rape inquiry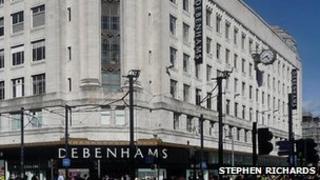 Two men arrested on suspicion of raping a teenage boy in a Manchester department store have been released on police bail.
The 14-year-old told police he was marched by two men to Debenhams, where he was assaulted in the toilets in June.
Greater Manchester Police said the men, aged 55 and 41, were arrested on suspicion of rape.
Two other men were previously arrested and bailed pending further inquiries.
The teenager told police he was approached by two men when he went to the toilets in the Arndale shopping centre on 2 June.
He said they told him to come with them and not to run or "we'll get you".
He was then led out of the Arndale centre to nearby Debenhams where he was taken by lift to a toilet and raped.
Supt Stuart Ellison said Greater Manchester Police had received an "overwhelming response" from the public after releasing two images of possible suspects.