East Midlands Trains' mobility scooter rules challenged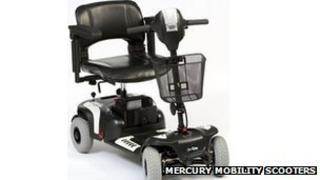 A disabled man has criticised East Midlands Trains for rules which stop him using his mobility scooter on its services.
Mark Nellthorp, from Portsmouth, regularly travels to Nottingham as part of his work for HM Revenue and Customs.
Last year, East Midlands Trains issued guidelines banning standard-shaped, four-wheel scooters.
The company said it was because these scooters were less manoeuvrable but Mr Nellthorp called the rule "perverse".
Mr Nellthorp said at first the train staff "turned a blind eye" and allowed him on board, but recently the rules have been enforced more strictly.
East Midlands Trains' guidelines state mobility scooters must fall within a certain size and should either have three wheels or four wheels in a triangle formation.
'Second-class citizens'
Mr Nellthorp, 50, said he favoured a standard four-wheeled scooter, which has parallel wheels, because it was a safer design and no other train companies had stopped him using it.
Mr Nellthorp said: "Virgin and South West Trains have been brilliant. Their trains are laid out in a way that the scooters can get on easily.
"It's simply the case that when East Midlands Trains refitted their trains a few years ago they went all out to squeeze in as many seats as possible and now they see disabled people as an inconvenience.
"They've fitted their trains inadequately and should refit them.
"If it affects me then I'm sure it's affecting other people as well. It means disabled people in Nottinghamshire are being treated as second-class citizens."
'Helping people'
East Midlands Trains said it will meet Mr Nellthorp and if his scooter is found to be safe to manoeuvre, he will be allowed to use it on its services in the future.
A spokesman said: "We have been operating a successful Scooter Card scheme since the start of our franchise in 2007 and our arrangements for helping people with disabilities have been in place for many years."
"Some larger scooters cannot be physically carried on some trains, buses or other forms of transport due to their size and manoeuvrability.
"Different types of trains on the UK rail network have different internal dimensions and layouts, which means mobility aids which can be carried on one train may not be suitable for another.
"However, we are always happy to work with individual passengers to provide advice and assess whether their scooter can be safely accommodated on our services."