Councils confident i54 business park will be filled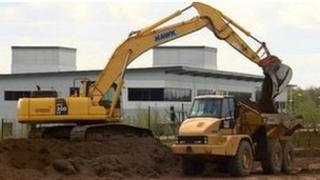 A business park being constructed on the Staffordshire-Wolverhampton border will fulfil its potential, according to council officials.
Some 12 hectares (30 acres) remain available at i54, which is being built west of junction two of the M54.
Jaguar Land Rover is already developing a £350m plant on the site, which will create up to 750 jobs.
Two other firms are also on board. The leader of Staffordshire County Council is confident they will fill the site.
Conservative councillor Philip Atkins, from the Staffordshire authority, said: "There's 30 acres here to be developed. It's at the heart of the country with a great connectivity.
"There's a labour force within an hour's drive that's really up for it and got the skills needed for those sort of firms that can come and join Moog, Jaguar Land Rover and Eurofins on this site.
"We are on schedule at the moment."
Staffordshire county and Wolverhampton city councils have both invested about £20m into the scheme.
The deputy leader of Wolverhampton's Labour-led authority, Councillor Peter Bilson, said: "The access and location of the site have been key elements in attracting Jaguar Land Rover in the first place as well as supporting the need for companies like Moog and Eurofins to be here.
"We believe we have a quality site and the access we're going to create off the M54 motorway is going to provide a further inducement to other companies to want to come here."