Devon and Cornwall Speed Watch: Drop in speeding drivers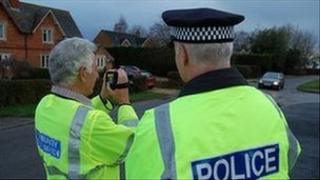 Fewer people are being caught speeding in Devon and Cornwall by volunteer-run monitoring schemes, official figures have shown.
Thousands of vehicles were recorded by volunteers and police in areas with a speed limit of up to 40mph.
In 2011, 4.6% of those monitored were recorded speeding compared to 5.4% in 2010, Devon and Cornwall Police said.
A spokesperson added it was an "effective deterrent to persistent speeding".
Motorists caught speeding are sent a warning letter and persistent offenders are visited by a local neighbourhood policing team.
The motorists were monitored by 19 Community Speed Watch projects across both counties in 2011 and 17 in 2010.
'Positive impact'
The scheme began in 2009, predominately in Cornwall, in a bid to reduce the number of speeding motorists.
In 2010, 80,418 vehicles were monitored across Devon and Cornwall and 4,352 were recorded speeding.
Last year, 123,803 vehicles were monitored across both counties with 5,712 found to be speeding.
In 2010, 3,206 warning letters were issued compared to 4,534 in 2011.
A police spokeswoman said fewer letters were sent out in comparison to those caught speeding because of several reasons.
These include the operator failing to record the registration and the details recorded not matching those held by the DVLA.
She said: "Although one years data is not enough to indicate a trend and there are always fluctuations in data, early indications seem to show that Community Speed Watch is having a positive impact on driver behaviour."
The project allows volunteers to monitor vehicle speeds in their community.