RNLI Sunderland aids schoolgirl and two dogs after cliff falls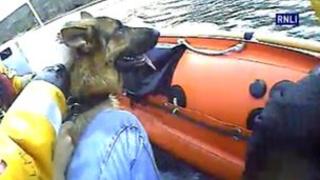 Lifeboat crews had to rescue a schoolgirl and two dogs hurt in three separate beach rock falls.
The first call out on Sunday was to Marsden Rocks in South Shields where a 13-year-old girl had fallen 10ft (3m) down rocks.
She was flown to hospital suffering from head and chest injuries.
The team later rescued a German Shepherd which had fallen 60ft (18m) at Rocker Beach and a cocker spaniel that had fallen near Souter Lighthouse.
The injured schoolgirl is in a stable condition and her injuries are not life-threatening, rescuers said.
Paul Nicholson, of the Sunderland RNLI, was involved in the two separate dog rescues.
He said: "Both of the dogs involved have been extremely lucky to survive falls of 60ft on to rocky ground.
"Everyone involved is keeping their fingers crossed that they both make a full recovery and suffer no long term problems.
"In both cases the owners did exactly the right thing by not attempting to rescue their pets but dialled 999 to inform the coastguard."