South and West Yorkshire Police forces could merge mounted units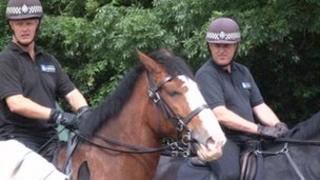 The mounted police section in South Yorkshire could close as the force seeks to cut costs.
All 14 horses based in Cudworth, near Barnsley, could move to West Yorkshire Police's mounted section based in Wakefield, the BBC has learned.
The mounted unit costs South Yorkshire Police about £1m a year and the force has to find savings of £43m by 2015.
South Yorkshire Police confirmed it was reviewing the unit but said it could not comment further at this stage.
In a statement, Deputy Chief Constable Bob Dyson, from South Yorkshire Police, said: "We are committed to maintaining the emphasis on preserving front line policing and explore all options, including collaborating with other forces, in order to maintain capability.
"It would be inappropriate at this stage to comment specifically on the mounted department whilst the review is ongoing."
'Cuts, cuts, cuts'
Neil Bowles, chairman of the South Yorkshire Police Federation, said the force's mounted section was "a very useful tool and should be saved".
"We've had 18 months of cut, cuts, cuts and all this is going to do is harm the communities of South Yorkshire," he said.
"If we have events in West Yorkshire and South Yorkshire at the same time, a smaller unit will not be able to cope and we may have to buy in that service from other forces."
West Yorkshire's mounted unit has 20 horses but it is likely that number would be cut if it merged with South Yorkshire's team.
A spokesperson for West Yorkshire Police said: "We are considering a number of options which will best serve the public in the future. Respective forces are in discussions but a decision has yet to be made."
South Yorkshire Police is one of 16 police forces in England and Wales that has a mounted section.
In March, police chiefs proposed the merger of West and South Yorkshire and Humberside Police's underwater search units into one base, halving the number of police divers across the region.