Man's bravery for rescue attempt of Clair Perkins recognised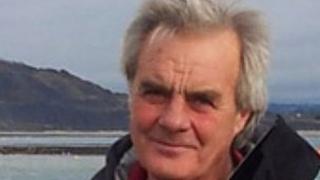 A fisherman who tried to rescue a woman when her electric wheelchair plunged into the sea off Dorset is to receive a national honour for his bravery.
Clair Perkins, 20, from Solihull, West Midlands, was waiting to board a cruise when her wheelchair rolled into the sea at Lyme Regis on 7 October.
Harry May dived into the sea but struggled to see in the murky water and could not release her from the chair.
Ms Perkins was airlifted to hospital where she later died.
Mr May, who runs mackerel fishing trips from Lyme Regis, said he was "humbled" to be chosen to receive Royal Humane Society testimonials on vellum.
He was nominated for the award, along with South West Air Ambulance paramedic Nigel Lang, by West Dorset coroner Michael Johnston, after the inquest into Ms Perkins' death.
Mr May, from Lyme Regis, said: "I'm honoured to be recommended for this award and humbled by it, but many, many people would have gone in and done the same.
"I remember thinking 'I don't want to do this but I've got to'.
"The cold water took it out of me. It was also murky. I felt inadequate but there was nothing anyone could have done. There were bubbles coming up from her breathing so I went down two or three times and touched the wheelchair.
"Clair's dad went in first, he knew how heavy the wheelchair was, so there was no hope of getting her out of the chair that she was strapped into, 14ft down."
Mr May, who said "everything stopped" estimates he was in the water for minutes before paramedic Mr Lang and the RNLI arrived.
Mr Lang dived into the water and managed to rescue Clair from the water, in her chair, with the help of the RNLI.
Clair was airlifted to Dorset County Hospital where the resuscitation team managed to restore her breathing but she never recovered consciousness and died later that day.
"Clair was underwater for about half an hour so it was remarkable there was still a heartbeat," Mr May said.
He added: "Clair's parents had taken her to Lyme Regis for what was going to be her last holiday as she was suffering from from Niemann-Pick, a neurological disease, the awful part is they did not bring her home."
Dick Wilkinson, secretary of the Royal Humane Society, said Mr May and Mr Lang "richly deserve the awards they are to receive".
At an inquest into Ms Perkins' death, Mr Johnston said: "In respect to the courage shown by Mr May and Mr Lang, I can only say I salute you."