Surrey Bestival coach crash: Tribute to victim Michael Molloy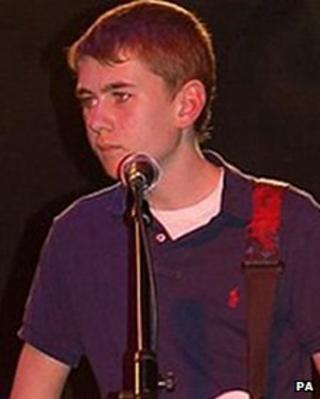 The family of a teenager who died when a coach crashed on its way back from the Bestival music festival said they have lost a "beautiful person".
Michael Molloy, 18, died when the coach he was a passenger in came off the A3 near Hindhead, Surrey, on Monday.
The driver, 63-year-old Colin Daulby, and a third victim, who has not been formally identified, also died.
Mr Molloy from Woolton, south Liverpool, was a member of the aspiring Liverpool-based band Hostile Radio.
His brother Joe said he was "genuine and loyal" and his loss meant "a big hole in the world".
He said he took comfort from the fact that Michael had told him he had "the best time of his life" at the Bestival music festival.
'Totally devastated'
In a statement released by Surrey Police, the family said: "Michael was a talented musician who had a promising career ahead of him.
"He was a beautiful son and a beautiful person, both inside and out, the kindest and sincerest heart we've ever known.
"We never imagined we would lose the most perfect son and brother.
"We are totally devastated."
Mr Daulby was described by his neighbours in Warrington as an "all-round good guy".
Tom McLoughlin said: "We're all in shock. This is a close-knit street and everyone knew Colin.
"I had known him for 20-odd years and spoke to him only the other day.
"He was a very good neighbour."
The coach was returning to Merseyside from Bestival, on the Isle of Wight, when it crashed.
The other 50 passengers, aged between 22 to 28, were also injured in the incident, some of them seriously.