Two hurt as plane crashes in Hampshire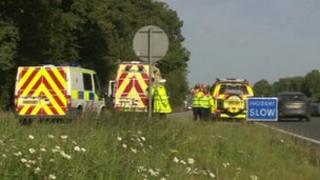 Two men have been injured after a light aircraft crashed near a small airfield in Hampshire.
Police and Fire and Rescue crews were called to an area of woodland south of Popham airfield near the A303 just before 15:00 BST.
The 44-year old pilot and 60-year old passenger were hurt but their injuries are not thought to be life-threatening.
They were airlifted in separate helicopters to Southampton General Hospital for treatment.
The pilot suffered minor injuries and was described as"walking wounded". He was taken the hospital by air ambulance.
The passenger was taken to hospital by coastguard helicopter with suspected fractures.
A spokesman for Hampshire Police said officers attended the crash site and "found that a two-seater light aircraft had crashed".
He added: "Both the pilot and the passenger have sustained injuries but these are not believed to be serious at this time.
"Both of them have now been taken to hospital and officers remain on the scene."
It is not known where the men had taken off from or where they were travelling to when it came down.