East coast lifeboats receive more summer call-outs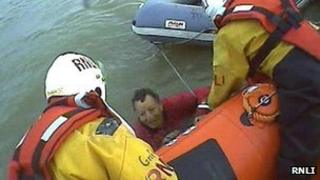 RNLI lifeboats around the East coast saw more call-outs this summer, with Southend-on-Sea being named the busiest coastal station in the UK and Ireland.
Southend's lifeboat was launched 71 times between 1 June and 31 August - an increase of 40% compared to 2011.
Suffolk and Norfolk's figures also rose sharply, with Aldeburgh and Happisburgh lifeboats attending six times as many distress calls.
The RNLI said despite the wet weather, the East bucked the national decrease.
The charity said across the UK and Ireland, launches were down slightly from 3,633 in 2011 to 3,575 in the summer.
Inflatable dinghies
A spokeswoman said there was "nothing conclusive" as to why the figures in the East were higher, but said the service was busiest during the hot weekend of 18 and 19 August.
One of the hottest temperatures of the year - 32.4C (90.3F) - was recorded at Cavendish, Suffolk, on the Saturday.
Andrew Ashton, RNLI divisional inspector for the East, said: "Apart from a noticeable change for Southend and West Mersea, elsewhere in Essex the year-on-year changes were small.
"Perhaps people were forced to assess the weather and take last-minute decisions on whether to visit the coast and go afloat. Either way, our crews did the RNLI and the general public proud."
Phillip Smith, from Happisburgh RNLI in north Norfolk, said there were so few good days that people were desperate to make the most of the weather when it was sunny.
He said inflatable dinghies proved problematic during offshore winds, with people being blown out to sea.
Hunstanton lifeboat also saw the third highest rise in launches in the UK and Ireland, with crews being called out to people cut off by the tide, and a search for a missing child.
RNLI said the Aldeburgh crew faced the roughest weather conditions of the summer when they rescued a Dutch yacht in force nine-10 gales on 8 June.