'Sex on duty' police officer Nicholas Stone cleared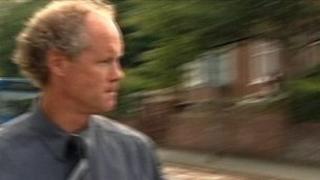 A married police officer who was jailed for having sex with a woman while on duty for Devon and Cornwall Police has been cleared on appeal.
Nicholas Stone, 42, of Pitminster in Somerset, admitted to a relationship, but denied raping her or having sex while on duty and in uniform.
The Court of Appeal quashed his conviction after new evidence questioned the woman's reliability.
Mr Stone said after the case that he was pleased that justice had prevailed.
In March 2011, Mr Stone was acquitted of rape, but convicted of misconduct in public office at Exeter Crown Court.
He was jailed for 12 months, which in June 2011 was cut on appeal to five and he was freed.
Doubt over evidence
The Court of Appeal in London heard that the Tiverton-based officer admitted having sex with the woman, but denied her claims that it took place when he should have been in uniform.
The woman said she had returned from a school event at a leisure centre and bumped into him outside her house.
She said the sex was interrupted when he received a call on his police radio.
But Mr Stone's barrister, Edward Burgess, produced police notebooks which showed that there had been only one Friday when Mr Stone was working at that time.
Fresh evidence also showed that that particular Friday had been after the summer holidays had begun, so the woman could not have been at a school event.
Lord Justice Elias said: "We don't think that the jury had all material evidence relevant to this count which they might have had."
Outside court, Mr Stone said: "I'm really pleased that finally justice has prevailed.
"I'd just like to thank my family and friends for their support."