Sir Norman Bettison referred to IPCC over Hillsborough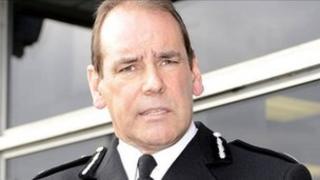 The police watchdog has received a referral from West Yorkshire Police Authority over the alleged conduct of its chief constable in the aftermath of the Hillsborough tragedy.
Sir Norman Bettison was an off-duty inspector with South Yorkshire Police at the football game in 1989 and took part in an internal inquiry afterwards.
He has been referred to the Independent Police Complaints Commission (IPCC).
The IPCC said it was conducting a "detailed assessment" of the referral.
The watchdog said it had received the referral following complaints from members of the public about Sir Norman allegedly being "involved in the production and supply of misleading information for the various inquiries that have been undertaken into the Hillsborough disaster".
It said a second element of the referral related to a statement he made last week, following the report of the Hillsborough Independent Panel, in which he said the Liverpool fans' behaviour made policing at the tragedy "harder than it needed to be".
The IPCC said it was looking at the referral closely to work out how it should be investigated.
Calls to resign
In a statement, it said: "This assessment is being conducted in parallel with our ongoing review of the Hillsborough Independent Panel report and supporting documentation.
"The review is being undertaken to identify from the report what conduct, by named or unnamed police officers, may require referral and to clarify our jurisdiction."
West Yorkshire Police Authority's Special Committee agreed last week to record a complaint against Sir Norman and immediately refer it to the IPCC for investigation.
Sir Norman said after the meeting he was pleased to have the matter investigated.
He was a chief inspector with South Yorkshire Police in 1989 but was off duty on 15 April and was a spectator at the match at Sheffield Wednesday's Hillsborough stadium in which 96 Liverpool fans died.
Last week Sir Norman issued a statement in which he denied any wrongdoing, but sparked fury with his comments, which led to calls for him to resign.
In his original statement he said: "Fans' behaviour, to the extent that it was relevant at all, made the job of the police, in the crush outside Leppings Lane turnstiles, harder than it needed to be."
He followed up the statement with an apology, in which he said it was never his intent to "besmirch" the fans, and added that the Liverpool supporters were in no way to blame for the disaster.
The damning Hillsborough Independent Panel report revealed a cover-up took place to shift the blame on to the victims, and that 41 of the 96 lives lost could have been saved.
The panel found 164 police statements were altered, 116 of them to remove or alter "unfavourable" comments about the policing of the match and the unfolding disaster.