Alexander Monson Foundation launches after Kenya police custody death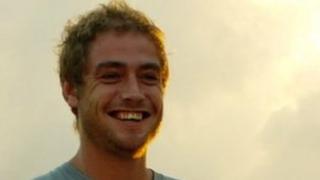 An aristocrat whose son died in police custody in Kenya has started a foundation in his name.
Lord Monson said the Alexander Monson Foundation would campaign against police brutality and aid human rights.
His son, Alexander, heir to the Burton estate in Lincolnshire, died in May in Diani after he was arrested on suspicion of smoking cannabis.
An independent pathologist suggested he died from a head injury. Kenyan police said he died from a drugs overdose.
The foundation was launched following a private memorial service in Kensington, attended by about 600 people.
Speaking at the event, Lord Monson said he was convinced the Kenyan police had a part to play in his son's death, despite their denial.
An investigation by the Kenyan authorities ruled out police involvement.
He said: "So many people are empathising and expressing their genuine sorrow and anger about what has happened."
He added the family were determined to get justice for their son.
Lord Monson said the post-mortem examination found his son had died from blunt force trauma to his head.
He hopes the foundation will "accelerate the process of police reform".