Vauxhall halts production at Ellesmere Port and Luton for week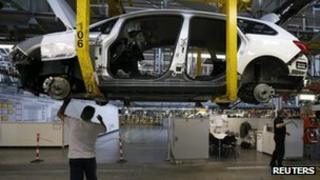 The production of cars has been suspended for a week at Vauxhall's plants in Ellesmere Port and Luton.
The company said sales of new cars in Europe had fallen in the past 11 months and it was halting production to prevent a build-up of stock.
It said closing the plants for five days in a row was more energy efficient than closing for odd days.
Staff at both plants are to be paid as normal with hours banked for future use in market upturns.
A statement from the company said: "At our manufacturing operations we are addressing market fluctuations as they occur, upturns with extra shifts, downturns with down days.
"This is normal working practice in order to match supply with demand - vehicles are built to customer order not for stock."
About 1,100 people work at the plant in Luton, Bedfordshire, and 2,100 in Ellesmere Port, Cheshire.
Production of the next generation Vivaro is due to start at Luton in 2014 and assembly of the new Astra at Ellesmere Port is scheduled to start in 2015.