Derek Jameson's widow pays tribute to 'one-off'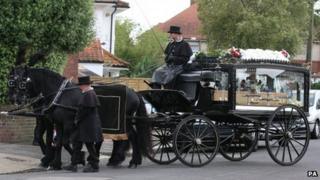 The widow of broadcaster and former Fleet Street editor Derek Jameson has paid tribute to an "incredible character" at his funeral service.
"I never forgot Derek was an extraordinary man and a one-off," said Ellen Jameson.
A horse-drawn carriage carried Mr Jameson's casket through his home town of Worthing, West Sussex, to Offington Park Methodist Church.
Mr Jameson, 82, died after having a heart attack at home on 12 September.
After the Victorian carriage, decorated with flowers spelling out Derek, arrived at the church where Mr Jameson was a regular worshipper, the coffin was carried inside by his children and other family members.
Mrs Jameson said the life force was strong in her husband to the end.
"Until a few days before, he was mentally robust, alert, interested, reading his books, watching TV and writing newspaper articles, being interviewed for TV and radio," she said.
She said he had watched the Olympics proudly, which took place in his birthplace of the East End of London.
"Derek really was a man of the people, he was looked up to by many but I never saw him look down on anyone.
"Derek was a real softie and that hard shell of a newspaperman hid a heart of gold."
The service included a slideshow of images and family photos showing moments from Mr Jameson's public and private life.
He was born in poverty in the East End and grew up in a children's home.
Jameson began work in Fleet Street as a messenger boy at the age of 14 and rose through the ranks to edit some of Britain's biggest newspapers - the Daily Express, the Daily Star and the News of the World.
He was also managing editor of the Daily Mirror. He became a celebrity with television series such as Do They Mean Us? and his popular breakfast show on Radio 2.
He went on to present a chat show for six years with his wife, establishing Europe's largest late-night radio audience.
Jameson told his story in his autobiography Touched by Angels, with a second volume Last of the Hot Metal Men chronicling the dying days of the old Fleet Street.
The Jamesons moved to Miami Beach, Florida, in the early 2000s but Mr Jameson missed home and his family, and they moved back to southern England.