Megan Stammers: Michael Gove aware of concerns over school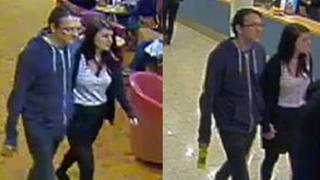 A child protection campaigner says she wrote to the education secretary amid "serious concerns" about the school of missing teenager Megan Stammers.
Megan, 15, has not been seen since leaving the UK for France last week with maths teacher Jeremy Forrest, 30.
Lucy Duckworth said she wrote to Michael Gove about Bishop Bell School months ago.
Mr Gove's office said if alerted to a specific threat it would inform the relevant authority immediately.
'Extremely hostile'
A Department for Education spokesman said: "Schools have legal responsibilities for safeguarding the children in their care. We made this clear in our correspondence with Ms Duckworth.
"If we were alerted to a specific threat to child safety, clearly we would inform the relevant authority immediately - be that the local safeguarding team or the police.
"Schools must also make their safeguarding policy available to parents."
On Tuesday, the Eastbourne school said it had a "robust" safeguarding policy in place.
Terry Boatwright, executive head teacher, said: "Bishop Bell School... takes safeguarding very seriously and the effectiveness of its safeguarding procedures is rated 'outstanding' by Ofsted."
However, Ms Duckworth, a former consultant for the National Association for People Abused in Childhood, said the school was "extremely hostile" when she wrote several times asking to see its child protection policy.
She said the school refused to send her a copy, despite it not having a version available online.
Ms Duckworth said: "I've written to [the school] and several other officials, including... Michael Gove and Stephen Lloyd MP, several times since February this year and stated their child protection policies have been inadequate throughout this time."
Mr Lloyd, Liberal Democrat MP for Eastbourne and Willingdon, defended the school.
"I know Bishop Bell well and I'm confident that their procedures have been exemplary," he said.
Canon charged
Ms Duckworth's concerns followed a separate incident in 2009, in which a teacher at Bishop Bell was jailed for starting a sexual relationship with two teenage pupils.
PE teacher Robert Healy was jailed for seven years after grooming them on social networking site Bebo.
In a separate incident, a retired Church of England priest suspended from the church following a Criminal Records Bureau check was allowed to remain as a governor, despite the school being aware of child sex allegations against him.
Canon Gordon Rideout, 73, has been charged with committing 38 offences over an 11-year period between 1962 and 1973. He is due to stand trial at Lewes Crown Court on 19 October.
Canon Rideout stood as a governor at the school until November last year.
Girl band appeal
Meanwhile, it has been confirmed Sussex Police were made aware of concerns over Megan's relationship with Mr Forrest, an amateur musician from Ringmer, near Lewes, before the pair disappeared.
The force has released CCTV images of the pair holding hands on a ferry from Dover to Calais at 21:30 BST on Thursday.
The search for the pair is ongoing in Europe amid theories they have travelled even further away from the UK.
Ch Insp Jason Tingley, of Sussex Police, said: "Although they entered France, it is possible that they are elsewhere now.
"Therefore our objectives are to identify where they are and for them to contact us, so we can bring Megan home safely."
Interpol, a liaison officer in France and the French Missing Persons Bureau are among the law enforcement agencies working on the case.
On Wednesday singers from girl group The Saturdays posted an appeal on Twitter which urged Megan to contact her family.
Francesca Sandford, from the band, tweeted: "Megan, on behalf of myself, Mollie, Vanessa, Una and Roch, please come home or call your mum. Everyone is so worried about you! Lots of love x"
Rochelle Humes added: "Megan please come home! Everyone is concerned and just want you home.
"No one at home will be mad at you just happy to see U! All our love xx."