Highways officer killed in M25 crash in Kent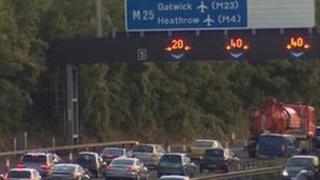 A Highways Agency officer was killed when he was hit by a car as he dealt with a crash on the M25 in Kent, it has been revealed.
The 59-year-old from the Gravesend area was struck by a Vauxhall Vectra at junction 5 of the motorway on Tuesday.
He had been attending a crash involving a car near South Chevening at about 13:40 BST, which left one person with a minor injury.
Two people in the Vectra were taken to hospital, one with serious injuries.
Sections of the M25 and M26 motorways were closed temporarily following the incident.
A Highways Agency spokesman said: "We can confirm a Highways Agency Traffic Officer was involved in a fatal incident at around 2.50pm yesterday at junction 5 of the M25 near Sevenoaks.
"The officer's next of kin have been informed and our deepest sympathies are with them at this time."
The Vauxhall Vectra that struck officer had been travelling towards Surrey.
The Highways Agency said queues built up to junction six at Godstone in Surrey following the roads closures.
The Vectra, which had three occupants, had been travelling from the direction of Dartford towards Surrey.