Rugby crematorium and cemetery plans approved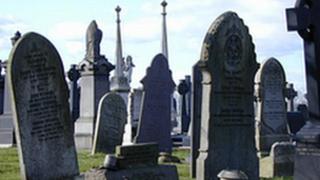 Plans for a cemetery and crematorium in Warwickshire have been approved.
Rugby Borough Council and Daventry District Council plan to build the £3m facility in Rainsbrook Valley, off Ashlawn Road in Rugby.
It was approved by the borough council's planning committee on Wednesday evening despite a demonstration outside the town hall.
The councils say that more burial space is needed, but some residents believe it is in the wrong location.
Near to housing
Councillor Dr Mark Williams, Rugby Borough Council's portfolio holder for sustainable environment, said: "With cemetery space in Rugby set to run out within the next few years, and with such a long trip for families to attend crematoria, these facilities are long-overdue."
One of the campaigners, who lives near the site, feels that it is the wrong location and should not be close to homes and schools.
Graham Payne said: "We've got schools there, it's right by a playing field, allotments, it's a combustion process."
In February, about 100 protesters attended a march against the location, saying it would harm the environment and generate a lot of noise from the extra traffic.
Sean Lawson, head of environmental services, said the plan had "very strong merits" and the location was picked with "great sensitivity."
He said: "The precise natures of people's objections were explored and discussed.... but at the end of the day, the planning committee need to make decisions on planning merit and a lot of the objections were, in my view, emotional ones."