Profile: Justin Lee Collins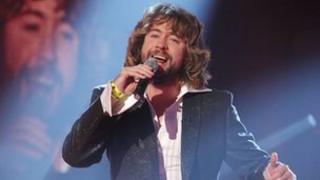 In more than 10 years on television and radio, Justin Lee Collins has garnered an image as a cheeky, happy-go-lucky funnyman who will try his hand at many other possible careers.
With his trademark shaggy hair, beard, strong Bristolian accent and thumbs-aloft "good times" catchphrase, he is known among fans as simply "JLC".
After ditching the stand-up comedy he had begun in his teens, he hosted a show on radio station XFM, and had presenting slots on MTV and Channel 4.
But it was on the Friday Night Project - later the Sunday Night Project - where JLC made his name.
Pairing Collins with fellow comedian Alan Carr, it featured a different celebrity guest host each week, live music, jokes and hidden camera stunts.
Collins and Carr would treat the hosts with starry-eyed deference but also a chummy familiarity in which everyone involved would poke fun at themselves and each other.
The likes of Eamonn Holmes and Katie Price appeared in its early series, but by 2008 the comedians were brushing shoulders with international superstars and persuaded Mariah Carey to appear with them in a musical parody of her infamous diva-like demands.
'Blast from past'
By this time, Collins and Carr were celebrities themselves and in 2007 were jointly nominated for a television BAFTA.
When the show ended, JLC was not short of work with his own self-titled vehicle on ITV2.
The chat and music show indulged his love of 1970s and 1980s nostalgia with "blast from the past" appearances by the "woman from the Shake n' Vac advert" and "Jane from Rainbow".
In his Bring Back... series of programmes for Channel 4, Collins went in search of the stars of films and shows he adored in his childhood - Dallas, Star Wars, The A-Team, Fame and Grange Hill.
By then, the married man was also a father of two sons and his ever-ready catchphrase adorned the cover of of his 2009 biography.
Also a keen singer, he made a failed bid to perform at the Eurovision Song Contest in 2010 and tried to pass off as a Tom Jones impersonator to other bemused look-a-likes at a US event for Channel 4's Convention Crasher.
He tried out clowning and ventriloquism for the same series, and took on challenges as a Mexican wrestler, high diver, surfer and ballroom dancer for "JLC is..." on Sky 1.
But a Channel 5 chat show Good Times got poor viewing figures and was binned in 2010, the same year he split with his wife of seven years.
He may have failed as a potential Eurovision star but, undaunted, he went on to star in the West End in Chicago, as part of his Convention Crasher series.
He recently appeared at London's Shaftesbury Theatre, playing a bar owner in the musical Rock of Ages.