Olympic archer Alison Williamson plans future as teacher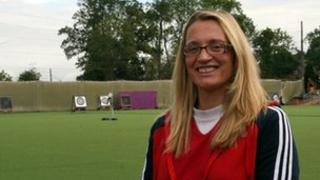 Almost two months after becoming a record-equalling British Olympian, archer Alison Williamson has joined the job market.
Williamson, 40, appointed an MBE in the Queen's Birthday Honours List, is one of only three British athletes to compete in six Olympic Games.
Despite the elation of competing in front of a home crowd, including her family, Williamson said she was disappointed by her performance.
One day after the women's team crashed out against Russia, Williamson failed to make it into the final 32 of the individual event as Mongolian Bishindee Urantungalag won 7-3.
"I feel like I gave everything I could and unfortunately that's the way life is, you don't always win.
"There is pressure, but it was more leading up to the competition, the consequences of how you do.
"If you medal, obviously the funding levels will stay the same or you might get more. If you don't, things will have to be cut and it affects the programme and the sport as a whole - you are aware of that definitely."
'Miss teaching'
Experience of a high-pressure environment will probably also stand Williamson in good stead as she attempts to return to primary education.
Six years out of the classroom she is planning to volunteer at a school near her home in Stafford to brush up on changes to the curriculum.
Despite being cut from the GB Archery programme for the first time in her professional career, Williamson seems genuinely excited about the future.
"I started doing some schools visits after the torch relay. Whenever I'm in a school setting I miss it. I really enjoy teaching - it's a two-way thing."
She also admitted that the motivation that drove her on at her first games in Barcelona in 1992 and led her to bronze in Athens 12 years later, might have gone.
"There was a real determination to take part because it was a home games. If it wasn't in London, I probably would have stopped after Beijing.
"I joked 'why couldn't it be in London every time', motivation wouldn't be a problem.
"For me the excitement started with the torch relay I did in Much Wenlock.
"Pretty much every Saturday afternoon from the age of seven my archery club, the Long Mynd Archers, would be based at the William Brookes School sports centre in Wenlock. I remember it very clearly."
As a 10-year-old Williamson also won silver at Shropshire's Much Wenlock Olympian Games, which a century earlier inspired Baron Pierre De Coubertin to establish the modern Olympics.
Top ranking
With archery one of the less well funded Olympic events, Williamson is used to hunting for a job over the first two years of the four-year cycle and this is not the first time she has returned to teaching.
The London 2012 result might have absolutely called time on Williamson's archery career had she not won the domestic title just a few weeks later.
"We have a series of events throughout the season and you have to place at these to be invited to the final. It's the top four men and the top four women.
"I had shot well in all the events leading up to it and i was ranked number one going into it.
"I didn't feel any pressure. It was three or four weeks after the Olympics and I hadn't shot at all until the week leading up to the competition."
Williamson eventually beat GB team mate Naomi Folkard in a high-scoring final.
"My fiance was there and there was an ice cream stand with quite posh ice cream.
"After three sets Naomi and I were tied at three all and my fiance said to me 'you know you're not going to get an ice cream if you don't win'.
"It was like, 'why didn't your coach say that to you at the Olympics?' The threat of no ice cream."
After the result Williamson said she had not ruled out the possibility of competing in Rio and becoming the most capped British Olympian of all time.
She is continuing to train with her coach once a week and says she is keeping her "options open", but admits the lure of 2016 is not the same as 2012.