Public urged to help find David Gilbert missing from HMP Hewell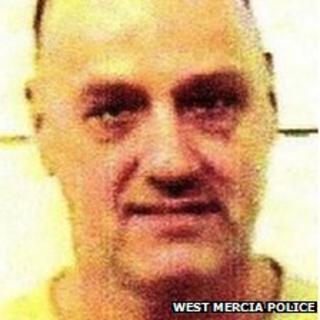 Police are appealing for help to find a convicted murderer who has gone missing from a Worcestershire prison.
West Mercia Police said David Gilbert, 56, was due to return to HMP Hewell near Redditch after day release.
It is thought Gilbert, from Penzance, Cornwall, could have gone to Redditch, Worcester or Birmingham.
Gilbert, described as white, 5ft 10ins tall with balding brown hair and blue eyes, was jailed for life for the murder of his partner in 1997.
Police said on Thursday that he was due to return to prison after day release on Saturday.
They also said Gilbert was nearing the end of his sentence and was being considered for parole.
Det Insp Robert Bruce said: "It should be borne in mind that he was detained in an open part of the prison and was therefore deemed to be of low risk.
"Although he was serving a life sentence for murder, circumstances lead us to believe he is not considered to be a risk to the public.
"However he may pose a risk to those he develops a relationship with."
He urged anyone with information to contact police.