Thomas Kirwan: Bridgnorth Aluminium staff 'still numb'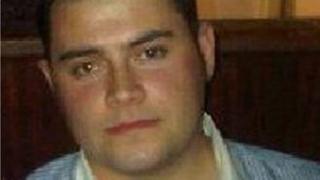 Colleagues of a Shropshire factory worker fatally stabbed outside a Wolverhampton nightclub say they are still "numbed by his death".
Thomas Kirwan, 23, died near the Uberra Club on 8 July. A number of other people were also injured.
Mr Kirwan's manager, Adrian Ward, said more than one hundred people attended his funeral at St Peter and St Paul's Church in Wolverhampton on Friday.
Mr Ward said staff from Bridgnorth Aluminium were given time off to go.
'Absolute gentleman'
He said: "There was a really good turn out, around 30 of our staff went and there must have been a hundred people gathered outside the church.
"His murder was terrible, everybody is still numbed by it all - Thomas was superb and an absolute gentleman.
"It's tragic and there's nothing else you can say about it."
Five people, four men and a woman, arrested in connection with the death have been bailed by police.
Mr Kirwan was planning to marry his girlfriend of six years, 21-year-old Jade Elwell, next year.
His sister Martine Johnson previously said a petition had begun to "raise the sentencing for carrying knives".