Engineering firm to create jobs for orders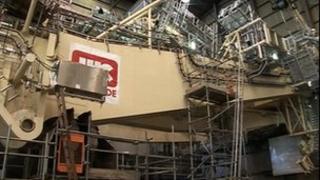 A North East engineering firm has said it is looking to create more jobs to keep up with its order books.
IHC Engineering Ltd, based in Northumberland and Middlesbrough, designs and manufactures pipelines for the offshore oil and gas industry.
The company has completed a 80m (260 ft) tall offshore pipe-laying tower and said they have orders for three more.
A spokesperson said: "We have created 40 positions this year alone and we need more staff."
The tower took more than three years to build, weighs 2,000 tonnes and it will be shipped to Norway in October.
Chris Hedley, a mechanical design engineer, said: "It's nice to see something from concept design, right through until seeing the final project.
"Engineering is not dead in the North East, a lot of our suppliers are extremely busy.
"Whether that's in the designing area, in the manufacturing area and the testing area. There's certainly a lot going on in the North East."