Coventry Airport vintage planes move to Newquay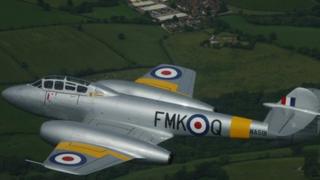 The Classic Aircraft Trust has begun to move a collection of classic planes from Coventry to Newquay in Cornwall.
The trust has used the site at Coventry Airport for 25 years but said it was moving around 25 aircraft to create a new visitor attraction.
Some of the planes date from the 1930s and include the first twin jet engine from the 1940s, said Malcolm Ginsberg, from the trust.
He added: "It's very sad but it was inevitable with the development plans."
Plans to redevelop land near the Coventry Airport and the Tollbar Island are being considered by the city council.
Mr Ginsberg said Sunday was the last day for members of the public to see the planes.
He said: "We've staged many air shows at Coventry over the years and that's what it's become famous for all around the country, but we knew that change was coming."
The planes being moved over the winter to Newquay include a Gloster Meteor, De Havilland's Vampire and Venom, light transport plane the Percival Pembroke and a Nimrod.
The trust has previously said about 33 jobs would be created on the Aerohub Enterprise Zone in Cornwall, announced by the government in 2011.