Antarctic and ocean research merger proposed by Nerc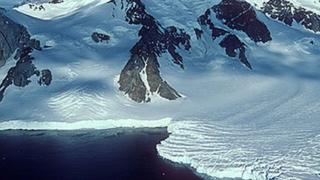 Merging the British Antarctic Survey (Bas) in Cambridge and the National Oceanography Centre (Noc) in Southampton could harm research into climate change, a campaigner warns.
The Natural Environment Research Council (Nerc) proposes a merged centre with headquarters in Southampton.
A former director of Friends of the Earth said it was the first step in cutting global warming research.
Nerc said the single body could tackle "the largest polar science challenges".
'Prestigious brand'
"A centre encompassing polar and marine science would address the "scientific synergies between marine and polar science", the consultation document says.
It would also help to mitigate "increasing costs of providing major marine and polar infrastructure" and would deliver this in the "most cost-effective way".
Staff would continue to work from both the Cambridge and Southampton research sites.
However, Tony Juniper, former executive director of Friends of the Earth and now a consultant on environment and sustainability issues, said it could signal the end of investment in polar research.
"It would mean the loss of a globally-recognised and highly prestigious British brand - The British Antarctic Survey - that's brought enormous benefits to this country," he said.
Getting rid of the name would make it "easier to remove funding" from science, he added.
A Nerc spokesman said it was committed to supporting "the current level" of activity in Antarctica and South Georgia, and added "there is no suggestion that Antarctic bases will be reduced or closed as a consequence of the merger".
BAS did not wish to comment on the consultation.