Duke and Duchess of Cambridge to visit to North East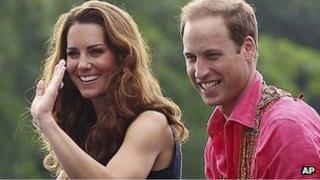 The Duke and Duchess of Cambridge have announced a one-day visit to the north-east of England on 10 October.
The couple will travel to Tyneside and Teesside and meet Olympic volunteers and pupils from a school which caters for children with cerebral palsy.
They also plan to meet experts working to improve the lives of the elderly and volunteers at an addictions centre.
The highlight of the visit is likely to be a planned walkabout on Ceremonial Way, outside Newcastle Civic Centre.
Their first stop will be in Newcastle, where the couple will meet officials and volunteers who helped bring the Olympic Games to the city.
They will also meet pupils from the city's Percy Hedley School, which teaches children with cerebral palsy and motor disorders.
The trip will culminate in a visit to a centre for addiction in Stockton, where the pair will meet families of drug users and volunteers.