Guitarists in amplifier world record bid at Ricoh Arena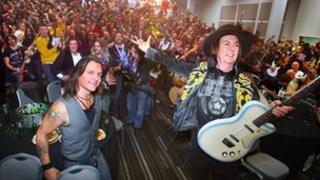 Hundreds of guitarists have joined Slade musician Dave Hill in an attempt to break a world record.
The event at Coventry's Ricoh Arena raised money for Childline.
The charity said 228 guitarists took part in Childline Rocks, which aimed to be the biggest electric guitar ensemble.
Organiser Nigel Dutton said they are waiting to hear if they have set a new world record. The event raised more than £20,000, Childline said.
Hill, lead guitarist and backing vocalist with the Wolverhampton glam rock band, said he had never been involved in a record-breaking bid.
"I know our drummer Don Powell had been in the 'largest ensemble of drummers' and they all had to play one particular beat to a certain record," Hill said.
"Don Powell was so loud that some of the drummers had to move away from him."