Kingsley Smith stands for police commissioner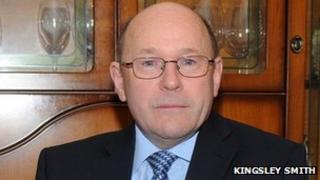 A former chief executive of Durham County Council has launched his campaign to become the county's first police and crime commissioner (PCC).
Kingsley Smith, the current chair of Newcastle Hospitals NHS Foundation Trust, is standing as an independent in the 15 November election.
Mr Smith pledged to adopt a zero tolerance approach to criminals.
Other Durham candidates announced so far are Labour's Ron Hogg and Conservative Nick Varley.
PCCs will be elected in every force around England and Wales. They will replace police authorities and have the power to set force budgets and to hold the chief constable to account.
Mr Smith said the experience of his own parents being burgled had hardened his attitude towards crime.
He promised to send a strong message to criminals if elected.
"There will be no hiding place, you will be hunted down, you will be caught, you will be punished," he said.